Web Hosting for Band
Small Business Website and Hosting for Folk Band
Folkus Pocus have been playing professionally since 2002. They are in constant demand playing for clubs, festivals, weekends and evening dances all over the UK and Europe.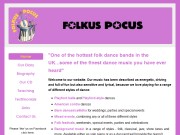 Key Services:
The duo's existing website was expensive to run, and updating the website was not easy, so they had been investigating alternative options.
A colleague of Dan Hollingshurst, for whom we had previously developed a website, recommended that he contact PC Access.
We rebuilt the website adapting the original design as directed by Dan. The affordable hosting provided by PC Access is considerably cheaper than with their previous hosting supplier.
---
We are thrilled with the website that PC Access Ltd have built for us.  They met all our design specifications, while ensuring that the site is very easy for us to manage and update.  The service they provide, both by email and over the phone is professional yet friendly, knowledgeable, and efficient.  Their fees represent good value for money and offer significant savings when compared to other providers we have used.
Dan Hollingshurst
---