Static Websites
What is a Static Website?
A static website is usually built using languages such as HTML (which stands for Hypertext Markup Language), XHTML and CSS (Cascading Style Sheets).
Although they can often (but not always) be easier and cheaper to build, it will not be possible for you to update your website yourself unless you are familiar with the programming language used. Nor will you be able to upload your changes unless you understand procedures such as FTP (File Transfer Protocol). This process can be time consuming, so even if you do have the necessary skills you may not have time to make changes.
A good use of a Static website is a temporary one page website or a "holding page" announcement. A custom designed page with your own logo, short message, together with contact information projects a far more professional image than a "standard" holding page message. You will then be able to spend time focusing on your requirements for you new website.
Static websites can still be interactive, and can include flash plus all the same features as a dynamic website. The only difference is that a static website does not have a content management system behind it for easy editing and updating.
As static websites are so much harder and more expensive to update, we strongly recommend you consider a data driven or dynamic website.
---
Project Examples...
"Coming Soon" Announcement for Photographer
Our client required a professional one page website as a temporary measure until he was able to give further thought to his new website.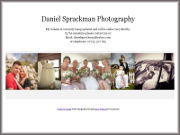 Project example for Static "Coming Soon" One Page Website
---