SEO and Integrated Web App
Custom Web App Integration with administration and marketing database
This dance listings web application is integrated with a back-end database for automatic updates, marketing analysis and efficient client management.
Key Services:
Information on this custom website is presented in a simple, easy to use calendar. Although the web app holds data for all dance styles across the UK, each member (or visitor) can personalise the website to list only events for their chosen dance styles and region. For maximum flexibility and ease of use for visitors, the web application had to be custom built.
Efficient search engine optimisation ensures AreYouDancing is number one in Google, and other search engines, for a wide range of dance related phrases.
The website is integrated with the back-office database which enables staff to track all contacts and manage billing as appropriate with registered organisations.
The custom web app includes an extensive administrative back-end content management system. Dance organisers can login to their own separate area in order to add their events and update information as and when required.
Website integration is provided for dance websites developed on behalf of organisers, which include calendar and/or list pages filtered to show only their own events. Many different dance websites source their data from AreYouDancing, so in this way data only has to be added once and is then automatically fed to other relevant sites.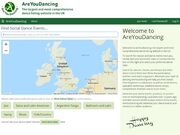 As the website application is integrated with an administration and marketing database new event organisers can be targeted in regions with low coverage for a particular dance style. Similarly existing organisations can automatically be reminded when they no longer have current events listed. Campaign success rates are also monitored, and full, up to date statistics are readily available for statistical analysis, including a full breakdown of membership and event information by dance style, region, and other criteria.
---