Sage Integration
Accounting Software Sage Integrating with Microsoft Access
GEM UK is an electronic manufacturing company that specialises in the building and assembly of printed circuit boards (PCBs).
PC Access developed a bespoke Microsoft Access database that allows the editing of bill of materials for the manufacture of printed circuit boards. The application integrates with the Sage accountancy system to extract product and price information.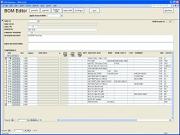 Key Services:
The Problem
Our client has a high level of technical expertise, but had been unable to produce bill of materials containing information, in sufficient detail for each of the components, as required by his manufacturers. He had an existing stock control database using Sage Accounts, and was using Crystal reports to produce his own order documentation.
Although he was happy with the way Sage handled the financial side of the business, the Bill of Materials (BoM) module would have been expensive to buy, and was too general for his specific requirement. It could not store the range of information he needed, in a format that he could easily use. Nor was he able to produce the specialist reports necessary for his business.
With good computer skills, our client is competent in producing his own forms and reports. However he lacked the specific skills required to design and build a solid foundation for the project, or to build custom software to integrate Sage with Microsoft Access.
The Solution
We designed and built a Microsoft Access database that enables the client to produce a Bill of Materials easily. He can now supply the information needed by his manufacturers in sufficient detail for each component. We also provided a customised form for easy editing of the BoM information.
With fully integrated software, Microsoft Access now links directly into live product data within Sage, so product and pricing information only has to be updated in one place. Our client has extended the database we developed to create his own custom forms and reports.
PC Access continue to provide ongoing support for Microsoft Access and other technical issues.
Technical
Custom Microsoft Access database with optimised ODBC queries to Sage Line 50
---
Tony and Anna have been a pleasure to work with. I am very much hands-on person, and like to manage as much as I can myself. My requirements are constantly changing too, so I need to be able to adapt the software I use as I go along.

They have been a tremendous help. My initial problem was solved in a way that allows me add my own forms and reports in Access. It's now so handy being able to phone to sort out any minor niggles, or for technical advice.
Gary Middleton, Managing Director, GEM UK Limited
---