CMS for Website Designer
Content Management System and Hosting for Website Design Business
Mary Cook runs a successful business based in Bristol providing creative and professional design services for clients who vary from small growing businesses through to large corporate departments.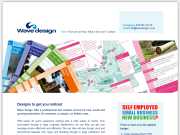 Key Services:
Although they have in-house skills for designing and developing websites for clients using proprietary software, our client had more specialist requirements for the Wave Design website. A later requirement was to build a custom CMS from which they could build websites for their own clients.
Mary found the Content Management System we built so easy to use, that she asked us to develop a custom version of our Content Management Software which her staff now use to build Wave Design website projects.
In addition, we provide low cost web hosting for websites developed by Wave Website Design, as well as for their own website.
---
I was so pleased with our new website that I commisioned PC Access to write Content Management software that we could use for websites designed by us for our own clients. We have the creative flair and PC Access provide all the technical support we need.

Always professional, within budget, and delivered within (often tight) deadlines. What more can I say…
Mary Cook, Managing Director
---