Legacy Web Application Issues
Rectify Website Browser Incompatibility, Performance and Other Problems
We were approached by Club Dance Holidays who use their website to promote and sell a wide range of dance holidays throughout the world.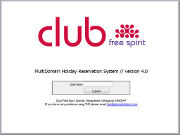 Key Services:
The Problem
The organisation was experiencing problems with their legacy web application, which incorporates an online booking system for holidays. The website uses Microsoft IIS (Internet Information Server), ASP and Visual Basic scripting with a MySQL backend database.
There were display and browser compatibility issues, for instance certain menu items would not appear on newer browsers or wider screen settings. In addition, some members were experiencing problems logging on.
The flight booking pages would take a significantly long time to load. This was due to systemic database schema issues such as mySQL optimisation not being applied to queries resulting in IIS Timeouts.
The Solution
With experience in dealing with a range of legacy web frameworks, we identified the menu problem in the JavaScript which had been written for the now out-dated IE6 browser. We provided a simple fix that would enable the menus to operate correctly for all screen sizes and modern browsers.
Security was already in place in the system, however we were able to initiate a number of enhancements to improve this further.
By simplifying the query that obtained the flight booking information we improved the performance of pages where this query was used.
Additional technical support and advice was given for a number of other issues.
---
PC Access are a tight team and managed to get to the bottom of our problems with minimal fuss
Robert Thompson, Director, Club Dance Holidays
---