Web Design for Holding Page
Temporary One Page Web Design As "Coming Soon" Announcement
Daniel Sprackman is much sought after as a wedding photographer. He also creates beautiful family and baby portraits, as well as specialist corporate photographs.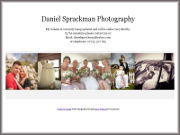 Key Services:
The business owner was not ready to focus on what he required for his website, yet he urgently needed a web presence to attract new customers and provide a point of contact.
We were able to make this holding page live within hours of receiving the design from the web designer.
The stylish web design for this "Coming Soon" announcement looks so much more professional than the standard holding page messages that are frequently seen.
NB The following testimonial was given for the website that we subsequently developed
---
Basically I didn't have a clue how to make a site or get one up and running so I asked around and got recommended to 'PC ACCESS' They were absolutely BRILLIANT I now have a site which is all up and running in no time at all.. (site designed by Mary cook - Wave design)… Being a Wedding photographer I'm always updating my site with photos, comments and testimonials, They have made it so I can edit the site and can keep it all updated in my own time.. Also if I have any problems they have always given me first class service……

Highly recommend.
Daniel Sprackman, Photographer and Business Owner
---