Gloucestershire Electrician
One Page Updateable Website for ARH Electrical
ARH Electrical is a small business run by Alan Herbert, an experienced and reliable electrician covering the Forest of Dean, Wye Valley as well as Gloucestershire.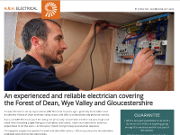 Key Services:
Our client had commissioned a design for a one-page website from Squiff Creative Media, and he was keen to have this live as soon as possible.
Within just a few days we were able to build a new professional dynamic website for him. This is backed by a content management system so he can make changes quickly and easily.
---