Dynamic Websites
What is a Dynamic (data driven) Website?
A dynamic website will give you complete control of your website, with no technical knowledge required. A custom Content Management System (CMS) will support the administration of your website, so you will be able to change the content quickly, easily, and as often as needed. With your website optimised it will rank high in search engine listings.
If you currently have a static website, changing to a dynamic website will eliminate frustrating waiting times plus expensive maintenance fees. Even with the necessary skills within your company, you will save considerable time as you will not need to change the underlying code, or publish a release with each change. You will also be able to administer your website remotely, so you and your staff will be able to keep your site up to date from anywhere with an Internet connection
Your website can be integrated with your sales, marketing and/or administration database. In addition to reducing staff time, accuracy will be improved and your website will automatically remain up to date.
---
Project Examples...
Simple Yet Eye-Catching Website for Sole Trader
Our client needed a simple one-page website that he would be able to make changes to himself. With very short time restraints, we were able to build the website within just a few days.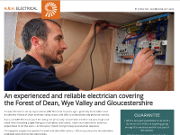 Project example for One Page Website for Electrician
---
Stylish Design for a Veg Box Delivery Ecommerce Website
A simple, easy to use, ecommerce website was required for a company selling vegetable boxes. With a stylish design and a very simple user interface our client is very pleased with his new website.
Project example for Ecommerce with Content Management
---
Mobile Ready Website with Booking Page for a Fitness Instructor
A dance and fitness organisation needed to be able to make changes to the website. A new mobile friendly design was required, as well as a booking form for online bookings for classes.
Project example for Web Booking Form for Fitness Instructor
---