Sage Integration
Microsoft Access Integration with Sage Accounts
Accountancy packages such as Sage or Intuit Quickbooks will link seamlessly with Microsoft Access. This means you can run your day to day business using your existing central office administration database, or we can develop one for you. Final invoice totals can automatically be fed into Sage Accounts, or other Accountancy software, for financial management.
Please click on the following link for information about software integration with other business management software.
---
Project Examples...
Invoicing with Sage integration, Job Management with SMS messaging application
inRode is a custom built Job Management System, handling the allocation of deliveries to drivers. It incorporates a bespoke invoicing system to help them manage industry specific billing requirements, with electronic transfer of information for integration with Sage. The most recent addition was an integrated CMS application for automatically sending text messages to drivers with delivery information.
Project example for Auto Text Messaging and Job Management
---
Accounting Software Integration with Microsoft Access
GemUK required a custom Microsoft Access database that would integrate with their Sage accountancy system. The Access software developed enables the bill of materials to be edited in preparation for the manufacture of printed circuit boards. This is linked to the Sage software for product and price information.
.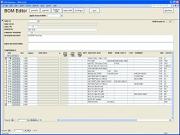 Project example for Sage Integration with Microsoft Access
---