Bespoke e-commerce website
Custom e-commerce website integrated with Access admin database
Badlands Travel sells specialist holiday trips in Europe and the USA based around concert performances. Each booking is tailored to suit individual requirements, such as travel dates, transport method, hotel preference, concert tickets and other optional extras.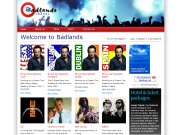 Concert Ticket Packages e-commerce website
The custom e-commerce website we developed is a combination of a hotel reservations system and a ticket sales system. We have fully integrated this with the existing telephone based bookings system developed by PC Access Ltd five years previously.
When packages are ready to go on sale, they are uploaded to the website. Visitors book on-line, selecting from a range of options available for the package selected. As ticket allocation for each concert (and some other choices such as hotel accommodation) is strictly limited, all items have to be checked for availability before proceeding to the checkout.
Concert Ticket Packages for Bruce Springsteen
Badlands Travel sell packages for concerts for a number of different artist and bands. However their key focus is selling Bruce Springsteen concert ticket packages.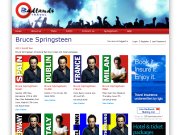 Website integration with Microsoft Access
Booking information and customer details are fed back into the central management administration database, with data matched to existing client records and updated accordingly. This handles administrative tasks such as sending reminders for final payments, and providing room requirements for hotels. Management and financial reports are generated for each tour.
---
The original bookings system developed by PC Access Ltd has been a lifesaver. The range of packages we sell has increased significantly over the years, with most selling out within a few frenetic days! We could not have managed the volume of sales we now have without it.

The launch of our new website has allowed us to expand still further, offering even more trips to music enthusiasts through the Internet. With less manual involvement, there has been a huge saving in time and staffing requirement. Managing sales is now so much easier, and far more cost effective.
Phil Jump, Director, Badlands Travel
---