CMS for Media Business
Professional Website with Content Management System for a PR and Media Consultancy
Director of SyvretMedia is Anita Syvret, who was Editor of the Gloucestershire Echo newspaper for 18 years and now runs her own PR and media training consultancy. Her new website had to describe, clearly and simply, the PR services that SyvretMedia offers.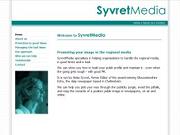 Key Services:
Our client needed a professional website that she could update remotely from a laptop.
With a custom Content Management System, we provided a very simple method for our client to the website. It was developed using XHTML and CSS for compatibility with all major browsers.
SyvretMedia also benefits from an all inclusive web hosting package with automatic domain renewal and hosting support.
---
PC Access were first class. I gave Anna and Tony a script and a few ideas as to what I wanted my website to look like. In a week, it was finished.

It was important that I was able to change the text of my website and add pages as my new business developed. So Tony fixed it: all I have to do is log in from my own laptop. They are quietly efficient, superbly knowledgeable, and most important, didn't blind me with loads of techno-babble.
Anita Syvret, Director
---